Profile

not_his_pa's Journal
Watched the train leave.
Free Account
Created on 2011-12-31 21:33:24 (#1350008), last updated 2017-01-15 (35 weeks ago)
803 comments received, 16,247 comments posted
33 Journal Entries, 32 Tags, 0 Memories, 52 Icons

About
| | |
| --- | --- |
| Name: | William Evans |
| Birthdate: | May 4 |
| | |
| | |

Mini Bio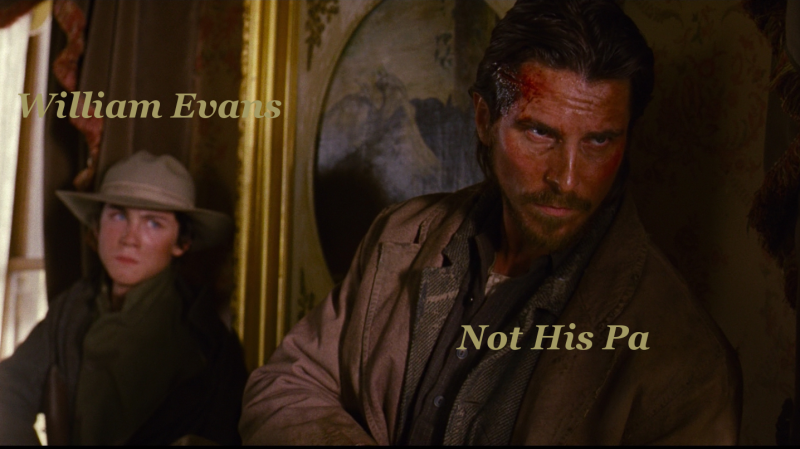 William Evans is sixteen and from the 2007 version of
3:10 to Yuma
. He entered Milliways from a point about a year after the end of canon and is in line with

almosthonorable
and

lasthalfmile
.
In terms of appearance, he's a tough young man with dark hair and serious eyes, who will normally be wearing fairly rough clothing from the 1860s, greater description will be provided in the midst of threading. Since he is currently the man of his family, its rare for him to smile and there's a wariness about how he holds himself.
William Evans is the sole property of the creators of the film and short story and I'm just borrowing him for roleplaying purposes in

milliways_bar
with no profit being made just some fun. On livejournal, he can be found at

not_his_pa
. The player behind William can be found at

ceitfianna
.

Connect
FionaLl8

People
[View Entries]

Communities
[View entries]

Member Of (1):

Subscriptions (3):

Administrator Of (0)

Feeds
[View Entries]

Subscriptions (0)

Linking
To link to this user, copy this code:
On Dreamwidth:
Elsewhere: